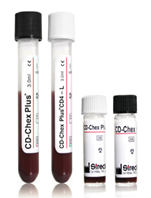 CD-Chex Plus provides the most assayed CD markers in the industry on a single control. This includes the HIV panel of markers recommended by the CDC and a normal level of CD34+ cells. CD-Chex Plus is manufactured from normal human peripheral blood leukocytes and erythrocytes. Two clinically relevant levels of CD4+ cells are available.
The product is designed for use on BD Biosciences and Beckman Coulter® flow cytometry systems.
CD-Chex Plus and CD-Chex Plus CD4 Low are available in cap-pierceable plastic vials for use with automated sample preparation instruments. The plastic vial increases employee safety. Both are also available in glass vials for manual preparation.
Stability

90-day closed-vial stability

30-day open-vial stability
CD-Chex Plus

Catalog #


Glass Vials

1×2.5ml CD-Chex Plus

2×2.5ml CD-Chex Plus

5×2.5ml CD-Chex Plus

213325

213326

213327

8×2.5ml CD-Chex Plus

213333

1×2.5ml CD-Chex Plus CD4 Low CD4

2×2.5ml CD-Chex Plus CD4 Low CD4

5×2.5ml CD-Chex Plus CD4 Low CD4

2×2.5ml CD-Chex Plus CD4 Low, Normal

213330

213331

213332

213340

4×2.5ml CD-Chex Plus CD4 Low, Normal

213341

10×2.5ml CD-Chex Plus CD4 Low, Normal

213344
CD-Chex Plus

Catalog #

*Cap-Pierceable Plastic Vials

2×3.0ml CD-Chex Plus

213365

5×3.0ml CD-Chex Plus

213367

2×3.0ml CD-Chex Plus CD4 Low

213366

5×3.0ml CD-Chex Plus CD4 Low

213368

2×3.0ml CD-Chex Plus CD4 Low, Normal

213391

4×3.0ml CD-Chex Plus CD4 Low, Normal

213369

10×3.0ml CD-Chex Plus CD4 Low, Normal

213370